Congratulations to this year's winner, Mr. Michael de Pencier!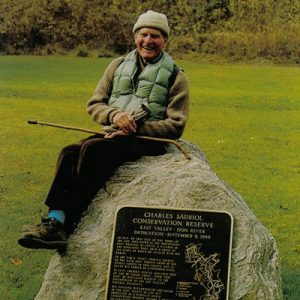 In honour of Charles Sauriol's legacy, Toronto and Region Conservation Foundation celebrates the vision, dedication and long-time contributions of today's conservation leaders with the Charles Sauriol Leadership Award.
Mr. de Pencier has been a devoted conservationist his entire life. As the longtime owner and publisher of Toronto Life magazine and he also played a leading role in the development of Canadian Geographic magazine.
His entrepreneurial spirit led him to invest in several environmental initiatives including; Greenchip Financial (which buys into green public companies), the Solar Power Network (rooftop solar), ArcTern Ventures (cleantech), and Investeco Capital Corp., a fund that supports companies devoted to sustainability.
Most recently, Mr. de Pencier has developed numerous programs intended to create links between urban communities and conservation, and children and conservation, including Kids' Run for Nature, Trees for Life, the Grandtrees Walk, and, most recently, the Grand Trees Climate Change Initiative.
One of the key projects Mr. de Pencier is working on is the Highway of Heroes Tribute. This project will see two million trees planted near Highway 401, between Trenton and Toronto to honour the two million Canadians who have served in the armed forces.
Mr. de Pencier has received the Order of Canada as well as the Order of Ontario.
For his years of dedication to the environment and long-time dedication to conservation, we thank and recognize Michael de Pencier