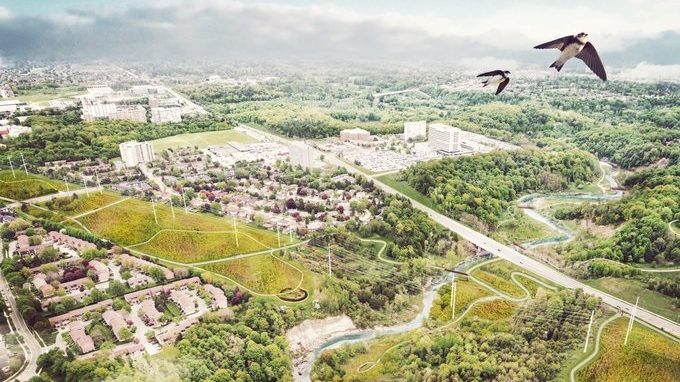 TRCA's ground-breaking initiative, The Meadoway, is a once in-a-lifetime land makeover project — championed by our conservation community!
Thanks to the generosity of funders, donors and communities throughout the Greater Toronto Region, The Meadoway team is transforming 16-kilometres of underutilized hydro corridor lands in Scarborough into a vibrant stretch of urban greenspace and meadowlands that will become one of Canada's largest linear urban parks.
Launched in 2018, this site is already becoming a natural space filled with butterflies, birds and wildflowers. Eventually, The Meadoway will connect 7 river and ravine systems, 15 parks, 16 kilometres of trail, 13 neighbourhoods, over 200 hectares of meadow, and more than 1,000 diverse species of flora and fauna. Cyclists and pedestrians will be able to travel from the heart of downtown Toronto to Rouge National Urban Park without ever leaving nature!
So, how is The Meadoway progressing?  Even in these unprecedented times, 2020 was a year of significant accomplishments!
The Environmental Assessment for the Multi-Use Trail was completed, and detailed design continues. TRCA provided adaptive management and monitoring on approximately 104 hectares of restored meadow and 31 hectares of new meadow habitat was established!
The Meadoway was also accepted as part of the prestigious Highline Network and was honoured with awards from the Ontario Association of Landscape Architects and the Brownie Awards for The Meadoway Visualization Toolkit.
TRCA offered new opportunities for communities to engage and learn through 16 educational live and pre-recorded videos with over 20,000 views on Facebook! The Meadoway was in the regular Thursday weekly spot in TRCA's At Home with Nature program. The Warbler, A Meadoway blog, was also created to keep supporters in the know. Have you seen it?
These few highlights are valuable indicators that The Meadoway is right on track in its mission to utilize the power of LAND to create life-sustaining habitat for flora and fauna and to connect and build healthy, vibrant communities.
On the horizon for 2021: TRCA staff commenced restoration and monitoring work in early April and will finish in late November. They will monitor vegetation plots as well as bird and butterfly transects.  They will restore 17 hectares of native meadow and continue adaptive management on 107 hectares of existing meadow, shrubs and mown buffer. It is anticipated that by December 2022, the entire Meadoway will be seeded!